HelveticaRR
Custom Detailed, Painted and Decaled N-Scale Models
I model the North Bay of San Francisco while assuming the Northwestern Pacific is still in business and does well.
Since no modern equipment is available with NWP markings, I decided to buy a second hand ALPS printer and make my own decals. Over the years I also started to custom paint models and designed decals when they were not available for my project. Most of the Southern Pacific decals are self-made since I can resize them according to original pictures.
Decals are printed on Tango Papa decal paper.
I now offer some of the decals I did for me. Please check the web site for those decal products. at HelveticaRR Decal
If you are new to detailing and painting models, check out my Detailing Page.
Passenger trains and light rail
Diesel Locomotives
California Transportation (CAT) (Freelance)
GP20 LifeLike model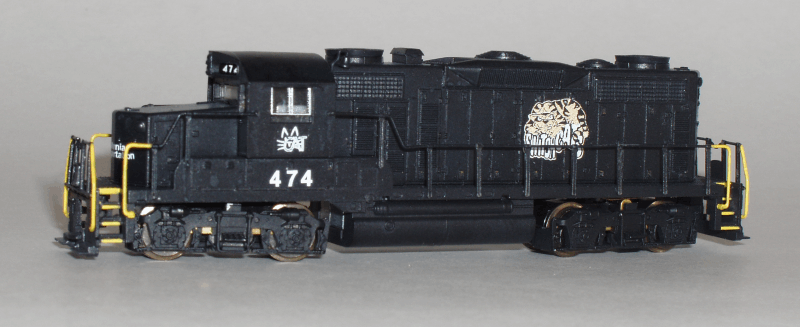 Denver Rio Grand & Western
GP40 Atlas model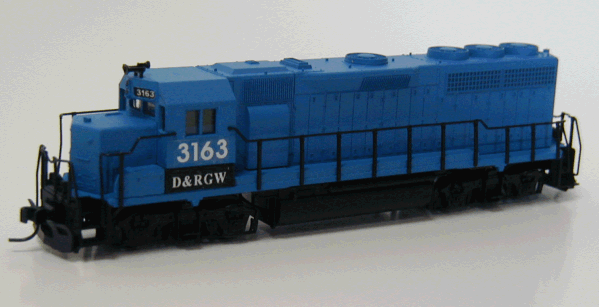 Microscale decals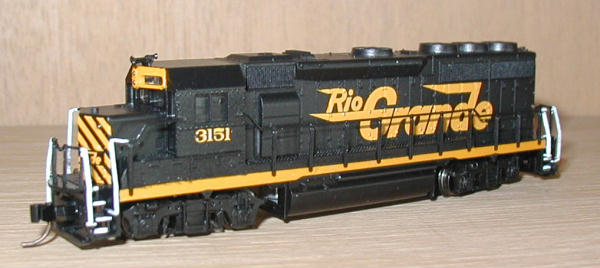 Amtrak
P42 Kato model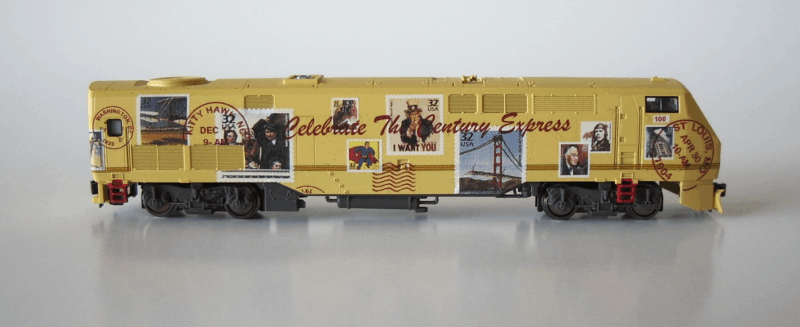 Port of Tillamook Bay
GP9 Atlas model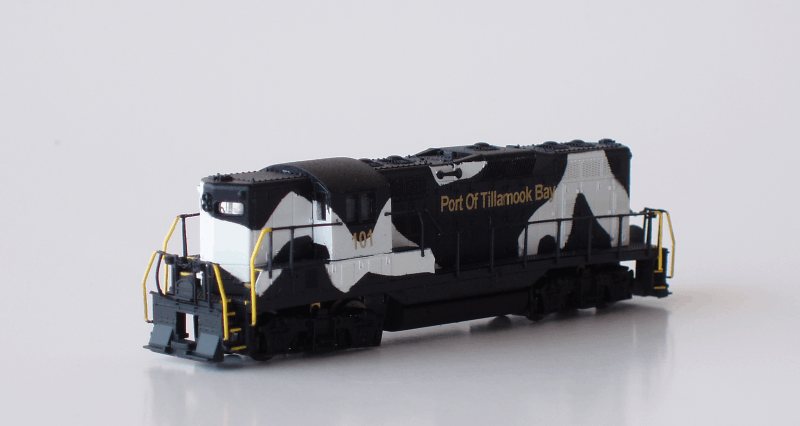 Union Pacific
SD40-2 Kato model, Microscale decals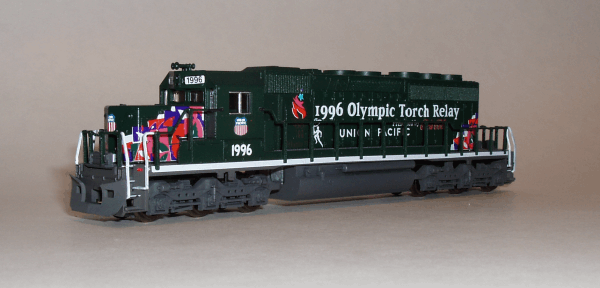 CSX
C44-9 Kato model, Microscale decals
(in private collection)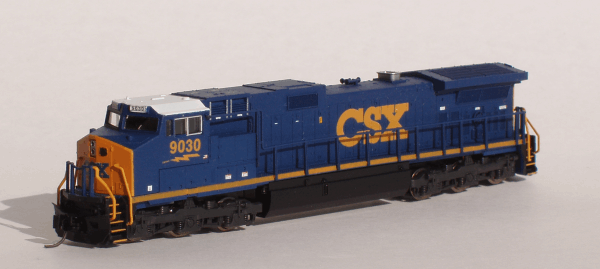 SD70MAC Atlas model, Microscale decals
Norfolk Southern
C44-9 Kato model, Microscale decals
(in private collection)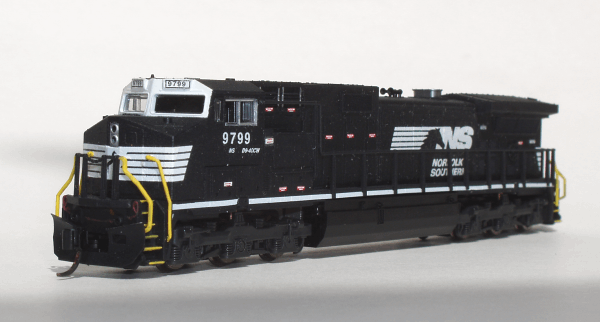 CSX, GE Demonstrator, NS
C44-9 Kato Model

Caltrain
F40PH Kato model, Microscale decals
(in private collection)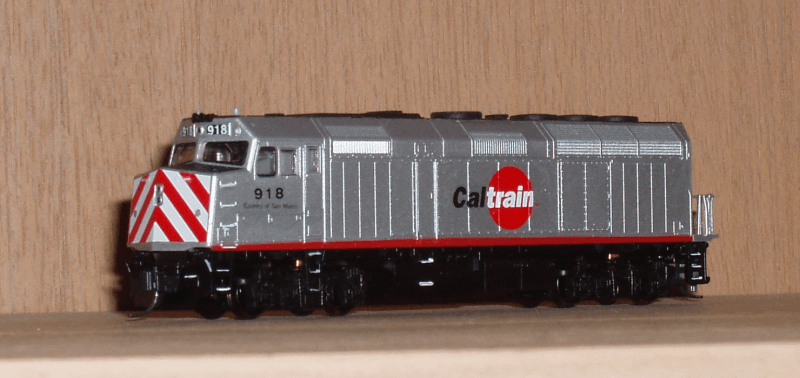 P59PH Athearn model, Microscale and own decals
(P59PH used since no MP2000 model was available at the time)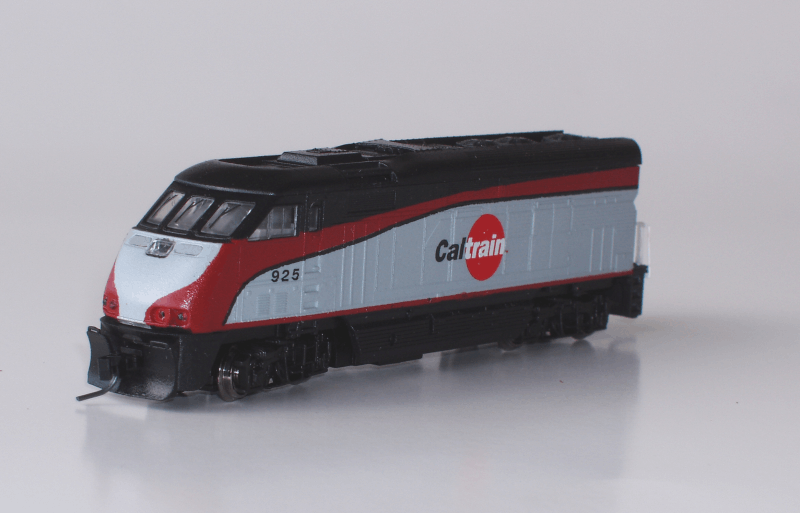 Freelance paint scheme of the San Jose SaberCats Indoor Football Team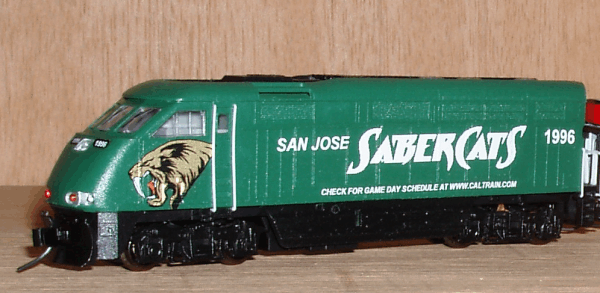 General Electric Demonstrator
AC4400CW Kato model
(AC4400CW used since no ES44AC model is available)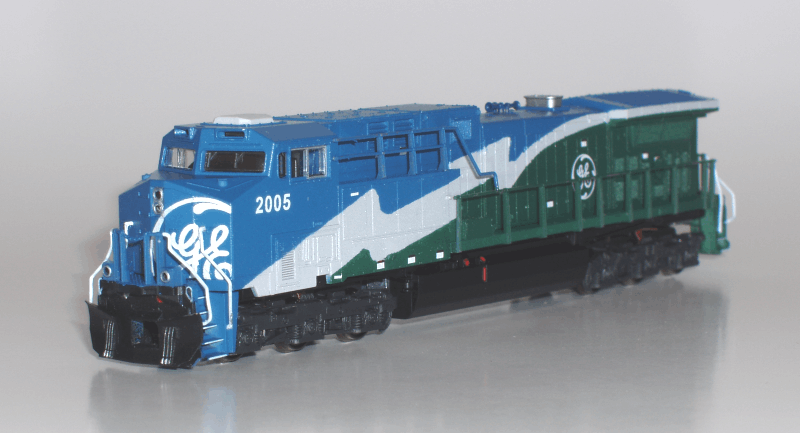 AC4400CW Kato model
(AC4400CW used since no AC Evolution Hybrid Prototype model is available)
BLMA, Sunrise Enterprise, JNJ and own detail parts
Southern Pacific
AC4400CW Kato model, Microscale and own decals, BLMA, Sunrise Enterprise and own detail parts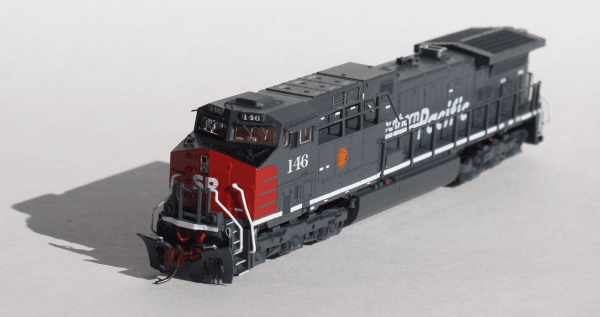 SD40 Kato model, Microscale decals

SD70M Kato model, BLMA, Sunrise Enterprise, JNJ and own detail parts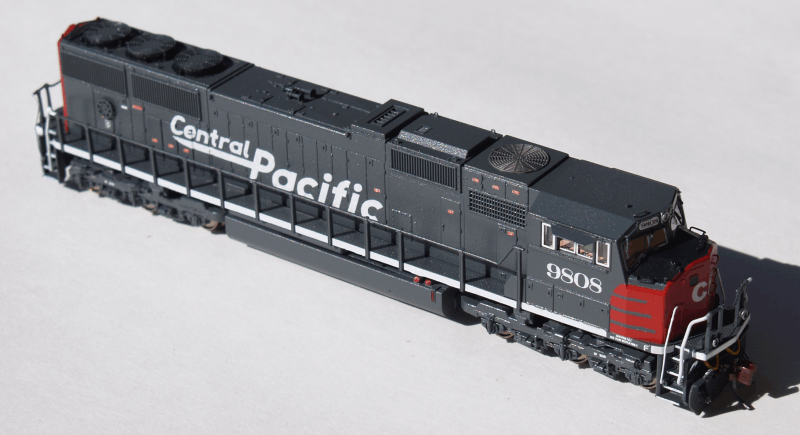 If you like to know how to detail this model, please see my Detailing and Painting tutorial
C44-9 Kato model
BLMA, Sunrise Enterprise, JNJ and own detail parts

Illinois Southern (Warner Brothers' Movie "The Fugitive")
GP30 Atlas model changed to high nose, Micro-Trains TOFC flatcar
(in private collection)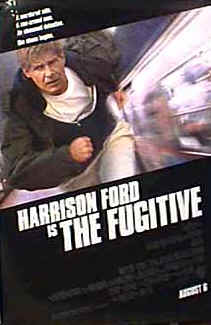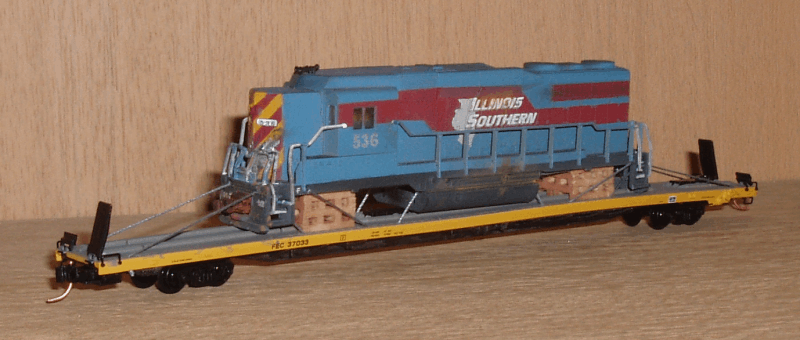 Burlington Northern/General Motors EMD
SD60M Atlas model, Microscale decals
California Traction
GP9 Atlas model, Microscale decals

Trona Railway
SD45 Kato model, Microscale decal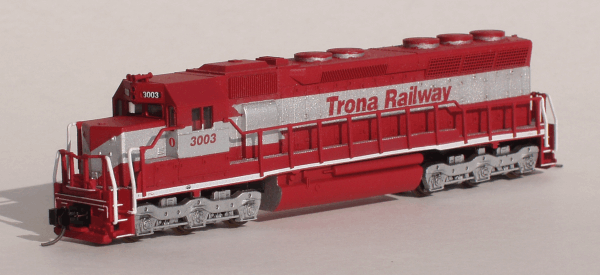 Western Pacific
AC4400CW Kato model, Microscale decals (In private collection)
(Freelance paint scheme)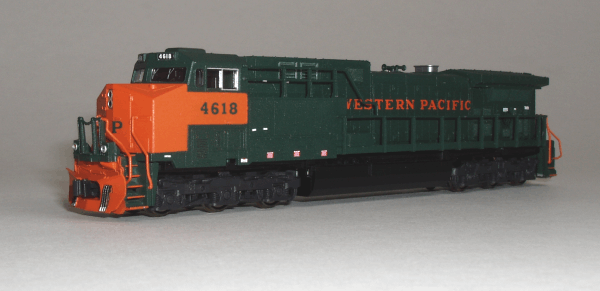 BNSF
AC4400CW Kato model, Microscale and own decal
(In private collection)
C44-9 Kato model
(in private collection)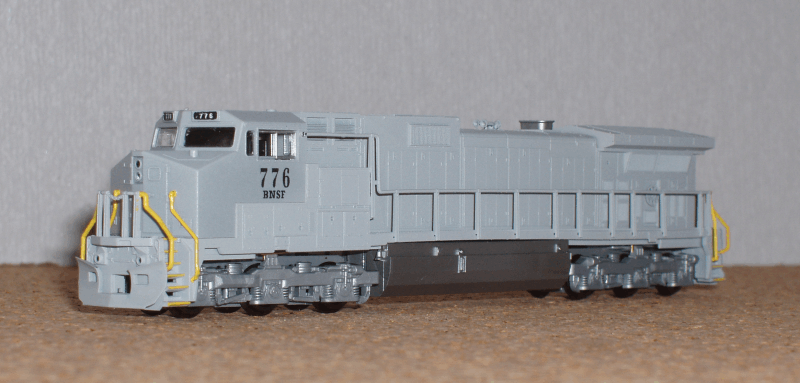 Compagnie miniere Quebec Cartier
AC4400CW Kato model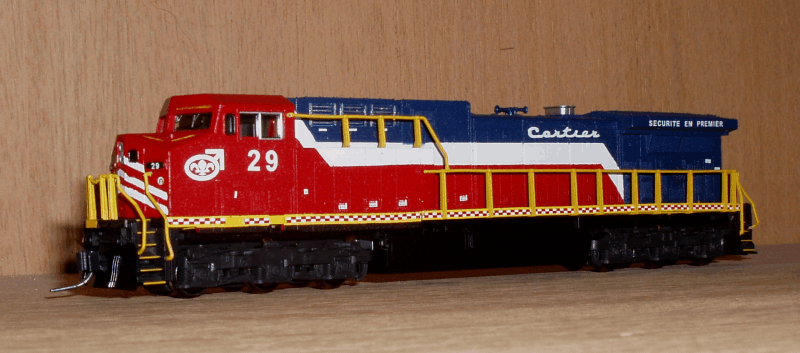 BHP Iron Ore, now BHP Billiton in Australia
AC4400CW Kato model
(AC4400CW used since no AC6000CW model is available)
Helm Leasing
SD50 Atlas model
(in private collection)
Ferronorte SA, Brazil
C44-9 Kato Model
North Coast Railroad
GP7 TT Atlas Model on LifeLike chassis, BLMA detail parts

Rock & Rail Railroad
GP20 LifeLike Model
Arizona & California Railroad
GP30 Atlas Model, Microscale decals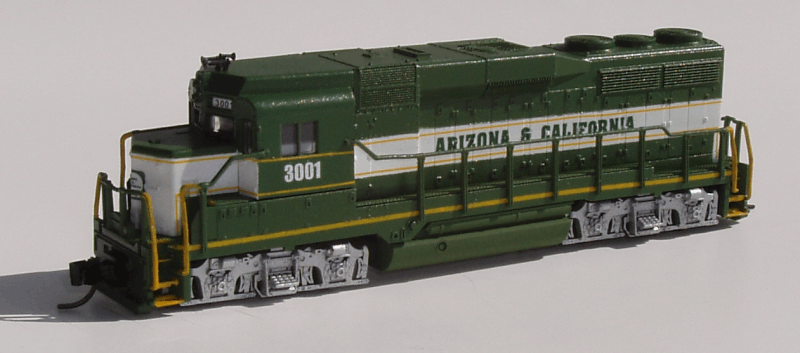 California Northern Railroad
SD9 Atlas Model, Microscale decals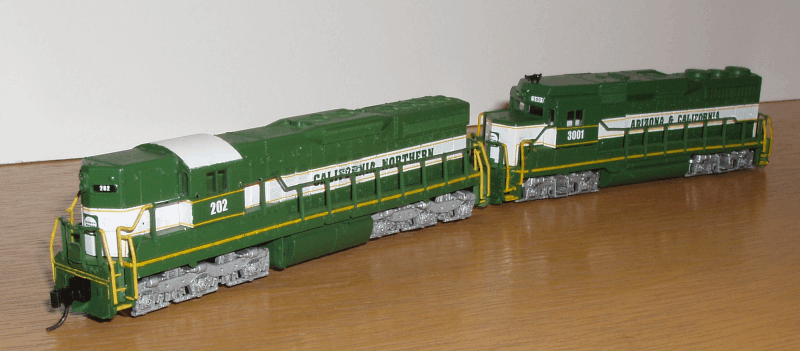 Montana Rail Link
SD90/43 Kato Model, Microscale and own decals, BLMA, JnJ, Sunrise Enterprises and own detail parts
(used a SD90/43 model since no SD70ACe model was available at the time)
(in private collection)

Minnesota Commercial
B23-7 Atlas Model, BLMA, JnJ, Gold Medal and own detail parts (in private collection)

Eureka Southern
GP38 Atlas Model, BLMA, JnJ, Gold Medal and own detail parts
California Locomotive Power (Freelance Locomotive Rebuilder)
CLP60WTI4
SD60M Atlas - SD90/43 Kato, BLMA, Sunrise Enterprise, JnJ and own detail parts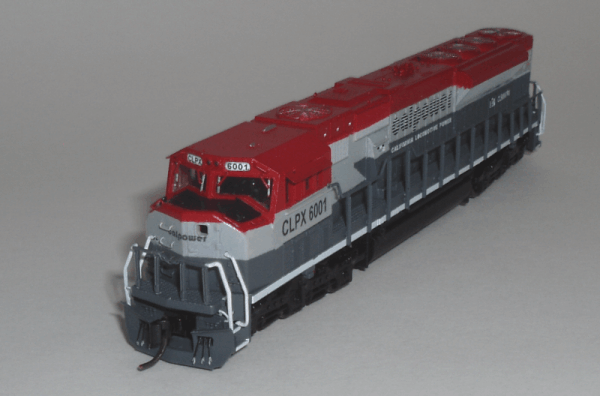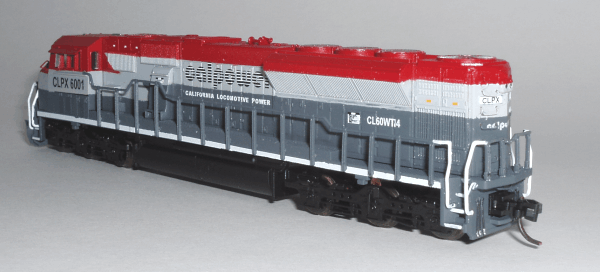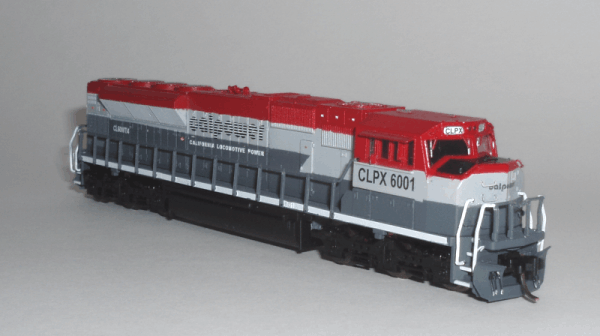 Custom made Kato Box Inserts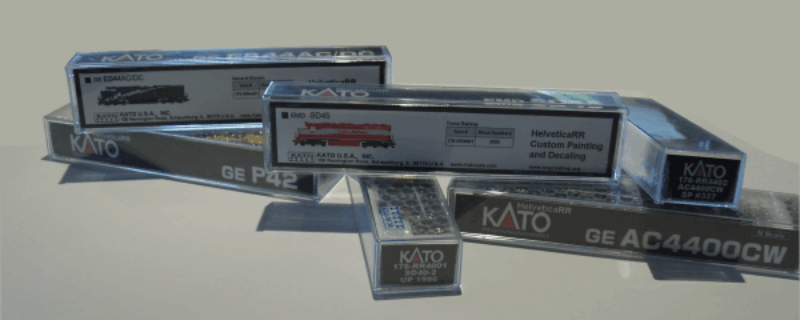 Passenger trains and lightrail