HelveticaRR
Custom Painted and Decaled N-Scale Models
I model the North Bay of San Francisco while assuming the Northwestern Pacific is still in business and does well.
Since no modern equipment is available with NWP markings, I decided to buy a second hand ALPS printer and make my own decals. Over the years I also started to custom paint models and designed decals when they were not available for my project.
Decals are printed on Tango Papa decal paper.
Home (Diesel engine)
Passenger trains and lightrail
Freight Cars
Northwestern Pacific
Models for my Semi-Freelance Railroad Company
Atlas Model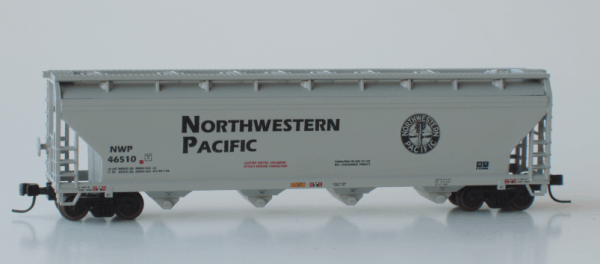 Atlas model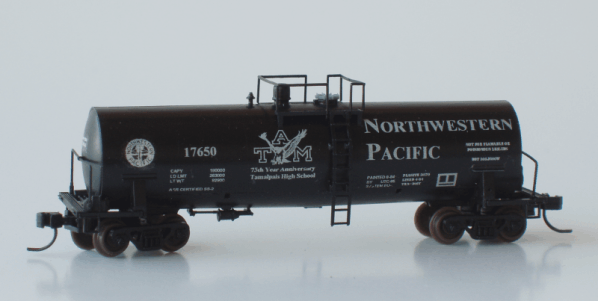 5 unit Gunderson Alan Curtis model, Microscale and own decals



Athearn BethGon Coalporter

Union Pacific one of a kind Cotton Belt covered hopper paint scheme
Atlas model factory lettered with own decals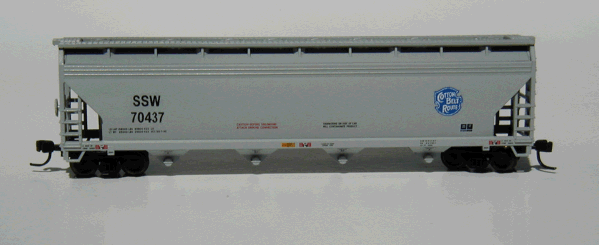 Department of Defense
DODX Allan Curtis model, Leopard II Roco model
The markings on the tanks are from the 1. Tank Battalion of the 1. Marine Division (The Tanks should be
Abrams M1 but there is no affordable M1 model available and I needed 20 tanks for my train).




The entire train can be seen here (416kb)
Burlington Northern Santa Fe
5 unit Gunderson Alan Curtis model

Southern Pacific
ConCor (Tri) Bi-level autorack, Plano panels
BMW 3 series car inside the autorack are resin casts from my own mold
5 unit NScaleKits model


Saskatchewan Government
Intermountain 4 Bay cylindrical hopper


TTX
N Scale Kits Gunderson 40ft rebuilt 5 unit well car set (two different version)




Home (Diesel engine)
Passenger trains and lightrail