Kartonmodell des Container Kran auf dem Areal des Bahnhofes Visp
Cardboard model of the container crane at the railway station in Visp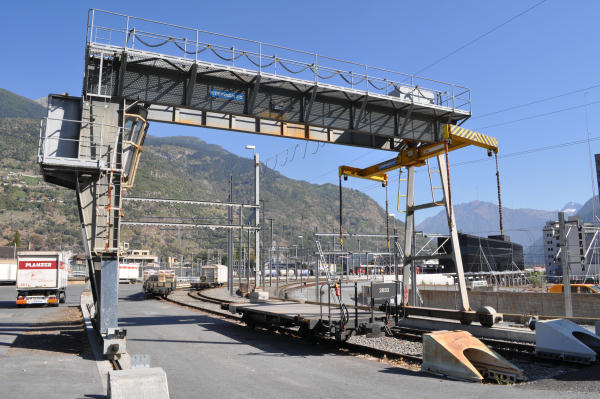 Bis zum Umbau des Bahnhofes Visp, war dieser Kran auf dem Bahnhofsplatz Richtung Zermatt aufgestellt und überspannte 1 SBB, 1 BVZ/MGB Gleis, sowie Strassenabschnitt.
Heute ist nur noch der Umlade Strasse/MGB möglich.
Das Modell des Kranes habe ich aus Finnenpappe und Polybak mit dem Laser herausgeschnitten. Er besteht aus über 200 Teile. Der Kran ist funktionslos.
Until the renovation of the station in Visp, the crane was locate next to the station building towards Zermatt. I over span 1 SBB, 1 BVZ/MGB track as well as a part of the road.
Today only the switch of containers from trucks to the MGB cars are possible.
The crane model is lasercut out of Taskboard and Polybak. It has over 200 parts. The crane is a static model.