Decal Background And Tips How To Apply HelveticaRR Decals
I am using a Alps 1000 printer (which allows me to print in white and make the decal paper waterproofed) on Microscale or Papa Tango decal paper.
Important Information: Since very small N-scale letters (especially in white) can be very difficult to print, I usually double or triple those letters or symbols on a decal sheet. Each sheet will be checked for flaws before it is packed. In some of the packages, you will find additional decal sheets that I added if I had the feeling that particular part was faulty. If you find a decal piece with defects, please contact me directly at helveticarr@aol.com before you return it to your dealer.
Tips for custom painted models: It is a good idea to coat the model with gloss finish (like Micro Coat Finish gloss) before applying HelveticaRR decals to reduce the silvery shine, which is a sign of trapped air under the decal. I use Microscale'sİ Micro Set and Micro Sol (Micro Sol even on regular shaped surfaces). After applying the decals and using Micro Set according to the manufactures recommendation, I wait about 12 hours and than apply Micro Sol about 3, 4 times over the next hour or two. The Micro Sol almost makes the decal become part of the paint. After another 12 hours, I protect the decals with either a satin or matt coat finish.
My Decal Background
I have been making decals in N-scale for over 4 years. It started with my semi-freelance railroad company, when I could not find the decals I needed.
Decal-bashed; Using an Atlas hopper and removing some of the markings.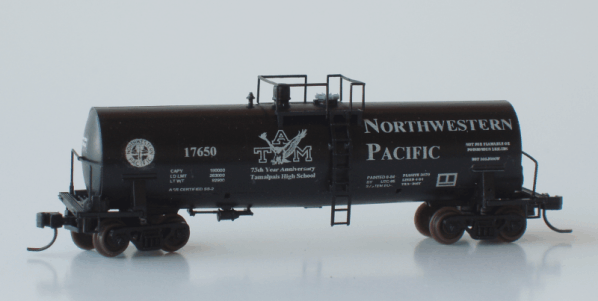 Atlas tank car with custom decals including a tribute to the High School I work for (this one started it 4 years ago).
Recently I made some decals for projects of unique models like the Cotton Belt hopper (another decal-bashing) and the GP 40 D&RGW locomotive still in Conrail colors. Both models represent actual railroad equipment.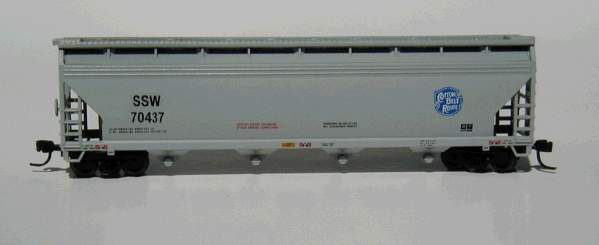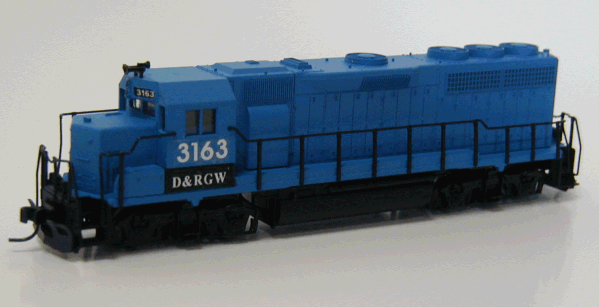 One of my project was the custom painted Kato AC4400. The AC4400 uses smaller Southern Pacific lettering than all the other models of the SP roster, which are not available in N-scale yet. After checking pictures of the real thing, I designed decals that would represent the right speed lettering size.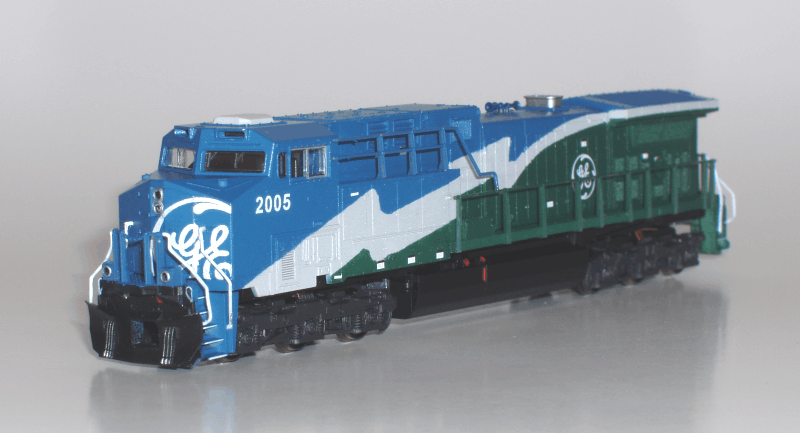 Although not really accurate, I custom painted an AC4400 in ES44AC demonstrator colors with custom decals.
The most elaborate decal job so far was the P42 passenger engine that celebrated the 20th century with stamps of the US postal service.
In the future I will try to get permission from the US postal service to sell the decal sheet as well, but so far I am to busy to get started at all.


I hope you enjoyed this page and you will give my decals a try. I promise you will end up with a model that you will not see on every layout.
If you want to see a different kind of custom painting, check out my other web site at www.engineshop.org.
Thanks for checking out this page.