N-Scale Freight Car Decals
(ACF 4 Bay Centerflow or similar)
personalized
This is a unique service to customize your fleet even further. You decide which railroad company name I will print on your decal sheet, as seen in the picture of the Northwestern Pacific Railroad. If you have an artwork of your herald, I could include it, too.
This decal set has no additional lettering (data dimensions) and is not designed for undecorated models.
I used a Atlas ACF 4-Bay Centerflow model Union Carbide since I only had to take off the small RAIX lettering and roadnumber on the side of the model which is easy to do with a regular pencil eraser.
Altas' Bayer or even GATX would work as well. See Atlas ACF web site for models that makes such a conversion easy: http://www.atlasrr.com/NFreight/n5250.htm, http://www.atlasrr.com/NFreight/n5701p.htm (check Soltex, Occidental Chem) or even the 2-Bay model http://www.atlastrainman.com/NFreight/tmn2bay.htm (check Dow Chemical)
Intermountain even makes a "Data only model" of a ACF 3 Bay hopper http://www.imrcmodels.com/n/html/67098.htm
Before you order please send me an e-mail so I can make sure I resize the letters to fit your model. I am an European guy so please send me the measurements in millimeters. See "How to submit the measurements" at the end of this page
I am in the process to get permission from UP, CSX and NS. Until then, I cannot sell decals with copyrighted names or logos.
If you need decals for more than a few cars, check out the Special Request/End Reporting Marks page.
If you have another model, and if you could provide me with the dimensions in millimeters, I can resize the letters to match that model at no extra cost.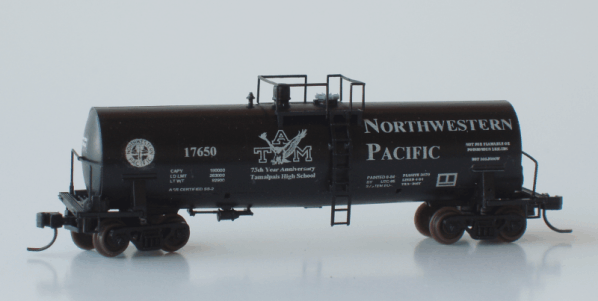 4 car set: ACF609W: $8.00* (white)
4 car set: ACF609B: $6.00 (black)
Additional sets (different roadnumbers) are $4.00 for black and $6.00 for white since I don't have to do any setup work. Same price for returning customers.
*Since white cartridges have become quite rare, the price doubled in the last 6 months.
What is so unique about these decals:
You can choose the name of the railroad company and the number on the decal sheet. You will get the name in the size you decide, a herald if you provide the artwork, abbreviated railroad name with number for both sides and end numbers.
I have following fonts to chose from: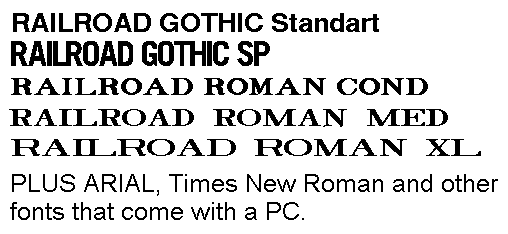 About Logos
Of course I need the artwork in either *.gif or *.bmp (sorry no Mac) file. I cannot work with a paper drawing since it would cost you too much to commission me to do the artwork for you.
How to submit the measurements
The best way to figure out what you need is to design your letters and logos on the computer and print them out in the right size and place them on your model.
My software lets me stretch or condense the letters and the gaps between letters. This is a great feature to make the letters really big but still fit it in the red box. The Northwestern Pacific is printed 14pt Eras Bold, (font) scaling 95%, (gap) tracking 95%. This is the reason I need the pt size of the font and the box size. More than 80% scaling and or tracking does not look good anymore.
Example how an order could look like:
4 car set: ACF609B:
Railroad Name: Northwestern Pacific (two lines, Aligned left, color black, Font Eras Bold 14pt, all Caps, N and P letter Font Eras Bold 18pt)
about 32 mm x 13 mm; about 2 mm gap between Northwestern and Pacific
Logo: NWP, color Black (see logo.bmp attachment)
about 10 mm x 10 mm
Number: NWP 46510, 46512, 46522, 46538 (two lines, centered, color black, Font Eras Bold 5pt, all Caps)
about 5 mm x 4.5 mm
End Reporting Marks: NWP 46510, etc (one line, black, Arial Bold 4pt, all Caps)
about 6 mm x 1.5 mm
For small letters and numbers like the End Reporting Marks Arial Bold, Arial Narrow Bold is the best choice.
If you have MS Word, you also can send me a Word document that shows the decals the way you want them. Don't worry about the layout of the document, it is just so I can see how they should look like.